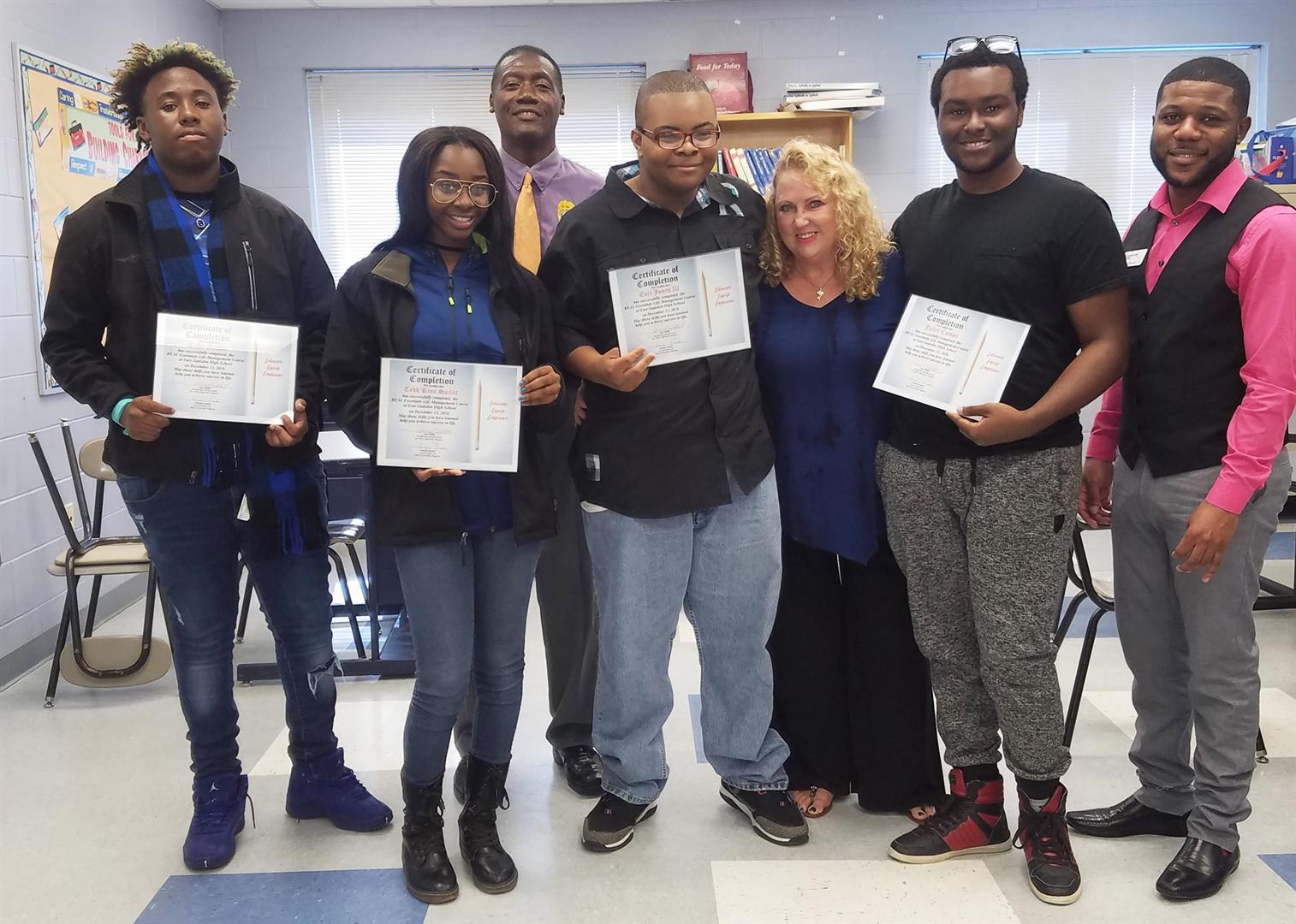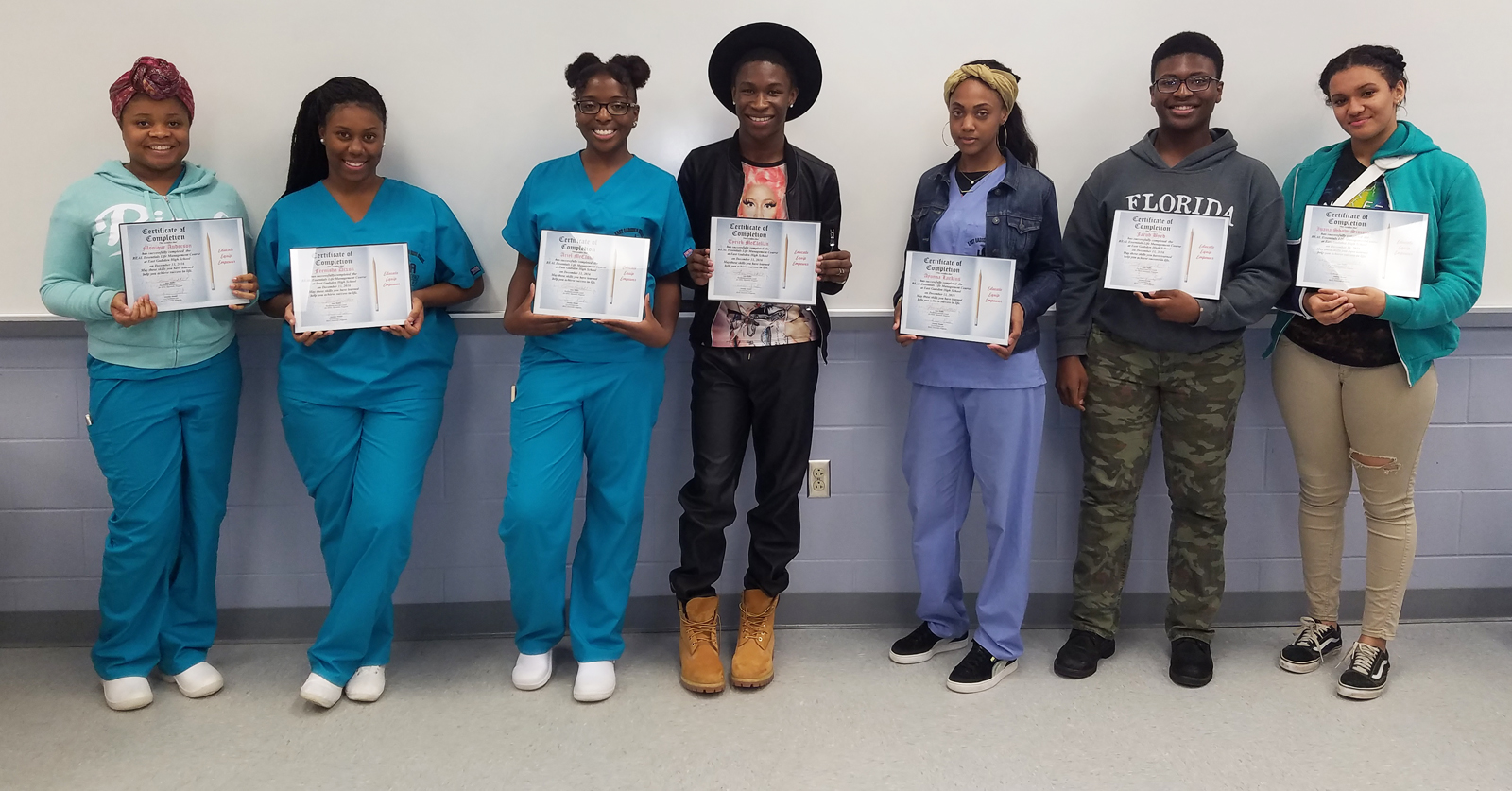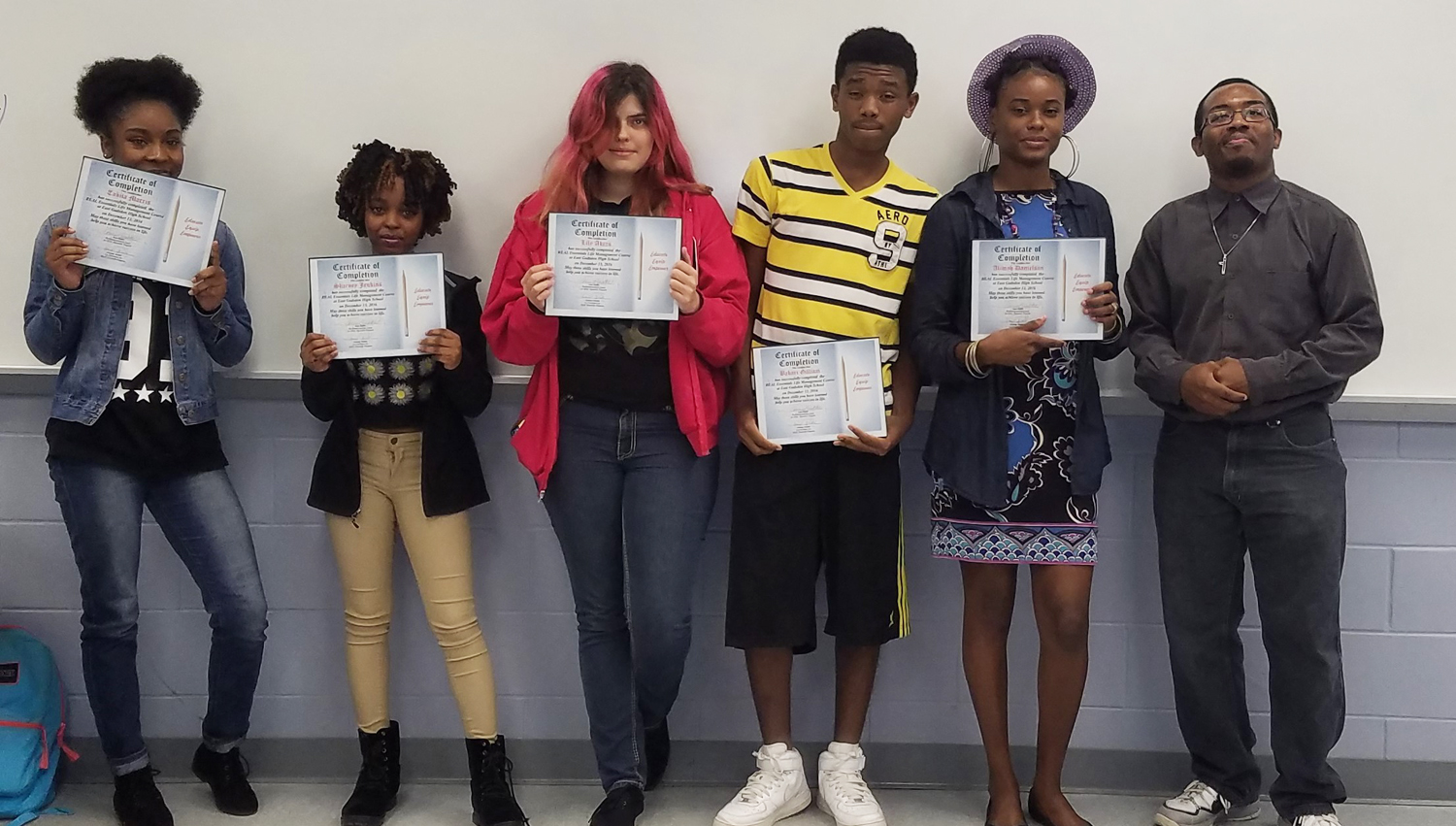 Graduates include:
Lily Akers
Takita Morris
Sharney Jenkins
Alexis Montgomery
Ariel McCloud
Ayanna Larkins,

Frenisha Dixon
Ivana Shaw-Simpson
Jarod Byrd
Monique Anderson
Tyriek McClellan
Earl Jones III
Jailel Colson
Tahjz Becton
Tedd' Kiya Sailor
Alimah Danielson
Bakari Gilliam
Comments made by students from 1st semester at EAST GADSDEN HIGH SCHOOL REAL Essentials Classes
1. …I loved this information because now I am more likely to gain a healthy relationship with love, care, communication and understanding. I will talk about my problems more, I will not push people away when they are trying to be concerned. I will push myself to my ability in my job at school and in life.
2. …this helped me to make better decisions when looking for a partner in the future. I will use this material to create a better relationship.
3. …I now can make decisions wisely and handle myself in a relationship. I will make smart decisions.
4. …be careful who you trust. This is a good class to show you how to treat people…my relationships will be better.
5. One thing was being nice and bullying isn't nice. I will use this to graduate. I now look at life differently.
6. Good classes because I learned how to balance things in life. They helped me feel like I can deal with my feelings and challenges.
7. I learned a lot about morals.
8. I would tell a friend to join this program. It helps.
9. These classes taught me how to speak about how I feel and not argue to make my point. It taught me about relationships and marriage and how to protect myself from STDs. Nice vibe.
10. It's a lot of things you can learn about drug abuse and relationships. This class taught me about STDs and social romantic relationships.
11. …this class helped me gain a higher understanding on issues like domestic abuse, childbirth without preparation and STDs. The people who taught did great and helped a lot of people.
12. …this class has taught me a lot about relationships, to better express myself to family and friends. I have learned to set boundaries…more comfortable in relationships and normal life…I learned about everyday expenses and how expensive weddings really are.
13. This class has made a big impact on my future. I've learned the rights and wrongs of situations and how to react to them. I would tell a friend because I want them to feel the way I do. I am sure they would too.
14. …I really enjoyed every moment of the REAL Essentials classes. I learned how to be better in a relationship and how to communicate better with my partner. At first it didn't meet my expectations but later all that changed. I fell in love with the information and applied it to my everyday life. I would recommend this program to all teenagers around the world.
15. This program exceeded my wildest dreams. My instructors, Ms. Anne and Mr. Geremy were very supportive. Every Tuesday and Thursday was more enlightening than the last. They were always open to hear our problems and I never left with unanswered questions. This is truly a ground breaking problem.
MORE Comments
I felt comfortable and welcomed.
This class was good.
I like this class because I felt comfortable talking about whatever I was concerned about with life.
This class helped me a lot. It should be taught in every school in the country.
Happy I got to attend. Wished it could be more often.
This class gave me many skills to maintain a healthy relationship and life style. Loved how the teachers gave from life experiences.
Wished it could be for all students especially younger ones. It would help a lot.
I know better about myself. The activities made me learn more. I feel more equipped to handle social problems. Loved the open vibe of the class.
Interesting conversations and activities
Most Helpful
Learned good communication.
How to get out of unsafe relationships.
Learned about Drug and Alcohol Safety and deal with relationships.
I loved REAL Essentials and the relationship advice. Keep up the amazing work.
I understand now why to abstain although it is tempting.
Learned about relationships, sex and habits and got a lot of ideas.
It was helpful to talk about relationships and marriage. It gave me space to be open with my feelings.
The teachers are awesome! They get their point across perfectly.
Everything was amazing. They both did a great job.